The California Music Center nurtures the talents and careers of young musicians from around the world by assisting them with the development of professional and performance skills, encouraging their community involvement, and providing them performance opportunities and monetary support.
Announcing The Roman Goronok Scholarship
Resulting from a new partnership with the international dealer in fine and rare stringed instruments, Roman Goronok, the Klein Competition is pleased to announce a major addition to its existing slate of prizes.
The newly established Roman Goronok Scholarship will be awarded annually to a selected Klein Competition Finalist to assist in his/her career development. The $5,000 award will be made on the basis of written submissions from Semifinalists, describing how the Scholarship would be of assistance in their growth and practice.
Speaking about the award, Mr. Goronok, a long-time committed supporter of emerging string musicians, said "I am delighted to work with the Klein Competition in this way as it furthers my endeavors in supporting contemporary classical music practice. And I look forward very much to the insight and information about the current situation and concerns of young players that I will derive from taking part in the selection process."
For more information on Mr. Goronok and The Roman Goronok Company, please visit www.romangoronok.com
2016 Klein Competition Semifinalists
The California Music Center is excited to announce the Semifinalists for the 31st Annual Irving M. Klein International String Competition, which will take place June 2-3, 2016 at the San Francisco Conservatory of Music.

Austin Berman, violin
Age 20
Princeton University (Princeton, NJ), studies with Li Lin at The Juilliard School in New York

Evin Blomberg, violin
Age 22
Manhattan School of Music (New York, NY), studies with Pinchas Zukerman and Patinka Kopec

Dongmin Hyun, cello
Age 18
Paramus Catholic High School (Paramus, NJ ), studies with Clara Kim

Sarah Hall, violin
Age 21
Arlington, WA, studies with Ronald Patterson

Coleman Itzkoff, cello
Age 23
Thornton School of Music at the University of Southern California (Los Angeles, CA), studies with Ralph Kirshbaum

Alina Kobialka, violin
Age 19
DePaul University (Chicago, IL), studies with Ilya Kaler

William Langlie-Miletich, bass
Age 19
Curtis Institute of Music (Philadelphia, PA), studies with Harold Robinson

Maya Ramchandran, violin
Age 22
New England Conservatory of Music (Boston, MA), studies with Paul Biss

Jacqueline Tso, violin
Age 19
Thornton School of Music at the University of Southern California (Los Angeles, CA), studies with Glenn Dicterow
Competition Tickets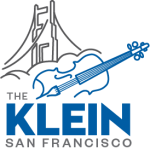 One of the world's most prestigious classical music competitions, this year's Klein Competition features nine outstanding young string players from around the world vying for over $25,000 in prizes and performance contracts.
Semifinals: Thursday, June 2, 3pm-9pm
25-minute programs including concerto movements, solo Bach, and a commissioned work by Giancarlo Aquilanti.
Caroline H. Hume Concert Hall
San Francisco Conservatory of Music
50 Oak Street
Free Admission
Finals: Friday, June 3, 8pm
Three dynamic 35-minute recitals featuring well-loved sonata and concerto movements. Awards ceremony will follow.
Caroline H. Hume Concert Hall
San Francisco Conservatory of Music
50 Oak Street
$20 general; $10 seniors/students/youth