MEET THE SEMIFINALISTS for the
33rd Annual Irving M. Klein International String Competition      
June 2 – 3, 2018, San Francisco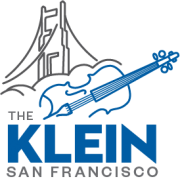 Celebrating 33 years of helping the world's top young string musicians gain prominence in the competitive world of classical music, the Irving M. Klein International String Competition returns to the San Francisco Conservatory of Music June 2 -3, 2018.  This year's nine semifinalists showcase the burgeoning talent from the top teachers and conservatories in America. Read the complete release HERE.
Selected from 85 entrants from 14 countries, the semifinalists are:
Paolo Dara, violin, 20; attends Cleveland Institute of Music; student of Jaime Laredo.
Isabelle Ai Durrenberger, violin, 19; attends Cleveland Institute of Music; student of Jaime Laredo and Jinjoo Cho.
Jean Kim, cello, 22, attends Curtis Institute of Music, Philadelphia; student of Carter Brey and Peter Wiley.
Julian Rhee, violin, 17; attends Brookfield East High School, WI; student of Almita Vamos.
Angela Ryu, violin, 18; attends Mount Royal Conservatory, Calgary Alberta; student of William van der Sloot.
Sophia Su, violin, 16; attends The Juilliard School, New York; student of Masao Kawasaki.
Davis You, cello, 16; attends Palo Alto High School; student of Jonathan Koh.
Hua Zhang, violin, 21; attends Indiana University Jacobs School of Music, Bloomington IN; student of Kevork Mardirossian.
Alex Zhou, violin, 16; attends The King's Academy, Sunnyvale CA; student of Zhao Wei.
(ages are effective at time of the Competition)
In the semifinal round, each performer will play an unaccompanied work of Bach, movements from notable concertos and a new commissioned composition by David Froom.  In the final round, the artists must perform additional portions of their selected concerto and one major sonata movement.
The grand prize includes cash and performances with the Peninsula and Santa Cruz symphonies, Gualala Arts Chamber Series, among others.  The grand prize is valued at $13,000.  The second prize is valued at $6,300.  It includes a performance with the San José Chamber Orchestra and the Piedmont Center for the Arts.  Ruth Short gives this prize in honor of Elaine H. Klein.  Third prize is $2,500.  Two fourth prizes, of $1,500 each are awarded.   Each semifinalist not awarded a named prize will receive $1,000.  Awards of $500 are given for best performance of the commissioned work, and of the solo Bach. Klein winners also participate in educational outreach in the Bay Area.
The distinguished jury includes violinist Glenn Dicterow, former concertmaster of the New York Philharmonic and on faculty at the USC Thornton School of Music; violist Karen Dreyfus, who also teaches at the Thornton School; this year's commissioned composer, David Froom; Janet Horvath, violist and authority on injury prevention for performing artists; Mel Margolis, Music Director and Conductor at Fine Arts Chamber Orchestra; violinist Ian Swensen, Chair of Violin at SF Conservatory's String Department; and Barbara Day Turner, Music Director of San José Chamber Orchestra.
The Irving M. Klein International String Competition, presented by California Music Center and the San Francisco Conservatory of Music, is open to musicians between ages 15 and 23.  The Klein Competition has achieved international recognition as one of the most prestigious classical music competitions, recognized for the high caliber of the contestants; its unique, nurturing environment; and its commitment to the commissioning of new works.
Its award carries the distinction that has helped many top soloists gain prominence in the competitive world of classical music, including Jennifer Koh, Mark Kosower, Vadim Gluzman, Jennifer Frautschi, Alban Gerhardt, Frank Huang and Robert deMaine; up and coming players David Requiro (2006), Tessa Lark (2008) and Nikki Chooi (2009); and principal chairs in many of the finest U.S. orchestras, including the Philadelphia and Cleveland Orchestras, the New York Philharmonic, and the Boston Symphony.
Jeremy Tai, a freshman cello student of Northwestern's Bienen School professor Hans Jensen, won the 2017 first prize. The competition is named for the late cellist and master teacher who devoted himself untiringly to the development of young artists.
 Congratulations to the 2017 Winners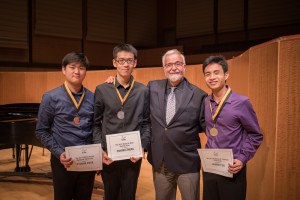 Kyumin Park; Zhanbo Zheng; Mitchell Klein, Artistic Director; and Jeremy Tai
Kathleen E. Freeman Memorial 1st Prize: Jeremy Tai, cello
Elaine H. Klein 2nd Prize: Zhanbo Zheng, viola
Milton Preves Memorial 3rd Prize: Kyumin Park, violin
Harry Adams Memorial 4th Prize: Peter Eom, cello
Jerry Lee Klein Memorial 4th Prize: Karisa Chiu, violin
Allen R. and Susan E. Weiss Memorial Prize for Best Performance of the Commissioned Work: Jeremy Tai, cello
Pablo Casals Prize for Best Performance of Solo Bach: Zhanbo Zheng, viola
Photo by Carlin Ma