for the 33nd Annual Irving M. Klein International String Competition      
June 2 – 3, 2018, San Francisco California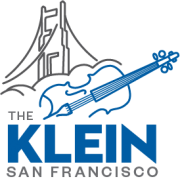 The Irving M. Klein International String Competition, presented by California Music Center and the San Francisco Conservatory of Music. For the past 32 years, "the Klein" has attracted some of the world's finest young string players to San Francisco each June to compete for cash and performance prizes. Violinists, violists, cellists and bassists age 15 to 23 of any nationality are eligible to compete.  The Klein Competition has achieved international recognition as one of the most prestigious classical music competitions, recognized for the high caliber of the contestants; its unique, nurturing environment; and its commitment to the commissioning of new works.
Its award carries the distinction that has helped many top soloists gain prominence in the competitive world of classical music, including Jennifer Koh, Mark Kosower, Vadim Gluzman, Jennifer Frautschi, Alban Gerhardt, Frank Huang and Robert deMaine; up and coming players David Requiro (2006), Tessa Lark (2008) and Nikki Chooi (2009); and principal chairs in many of the finest U.S. orchestras, including the Philadelphia and Cleveland Orchestras, the New York Philharmonic, and the Boston Symphony.
Jeremy Tai, a freshman cello student of Northwestern's Bienen School professor Hans Jensen, won the 2017 first prize. He was also awarded the competition's Allen R. and Susan E. Weiss Memorial Prize for Best Performance of the Commissioned Work, receiving more than $13,000 in prizes, including performances with our producing partners, the Peninsula and Santa Cruz Symphonies, the Gualala Arts Chamber Music Series, the Music in the Vineyards festival, and other performance opportunities. In the final round of competition, Tai performed Prokofiev's Sinfonia Concertante in E minor and Grieg's Cello Sonata in A minor, as well as the commissioned work by Lisa Bielawa, Insomnia Etude #3 – 5:15am.
The competition is named for the late cellist and master teacher who devoted himself untiringly to the development of young artists.
 Congratulations to the 2017 Winners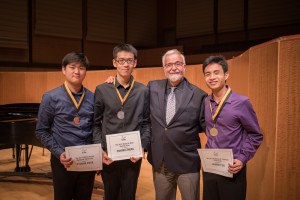 Kyumin Park; Zhanbo Zheng; Mitchell Klein, Artistic Director; and Jeremy Tai
Kathleen E. Freeman Memorial 1st Prize: Jeremy Tai, cello
Elaine H. Klein 2nd Prize: Zhanbo Zheng, viola
Milton Preves Memorial 3rd Prize: Kyumin Park, violin
Harry Adams Memorial 4th Prize: Peter Eom, cello
Jerry Lee Klein Memorial 4th Prize: Karisa Chiu, violin
Allen R. and Susan E. Weiss Memorial Prize for Best Performance of the Commissioned Work: Jeremy Tai, cello
Pablo Casals Prize for Best Performance of Solo Bach: Zhanbo Zheng, viola
Photo by Carlin Ma
Holiday House Concert
December 15, 2017  8PM  San Francisco
David McCarroll, violin   Roy Bogas, piano
For this special holiday concert, expressive and supple violinist David McCarroll (2007 Klein prizewinner) and renowned pianist Roy Bogas present a program that includes the Mozart Sonata in B-flat Major, K. 454, Ravel's Sonata No. 2 in G Major, and the Brahms Sonata No. 3 in D Minor, Op. 108.
Join us as early as 7PM for a festive, generous holiday buffet, fine wines, desserts and treats; concert at 8PM sharp. Your hosts will welcome you to their gracious home in San Francisco that boasts a 360 degree view. Seating is extremely limited for this event!
|  David McCarroll |  Roy Bogas |
| --- | --- |
| | |