Host a Semifinalist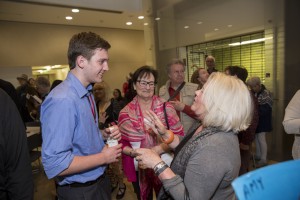 One of the unique qualities of the Klein Competition is its corps of enthusiastic and supportive host families/individuals. If you are interested in becoming a Klein host, please review the host responsibilities below and contact Marcy Straw, Executive Director by email or by phone at 415.252.1122. In general, we prefer that hosts be San Francisco residents, but it is not a requirement.
Hosting is a rewarding experience and a wonderful way to get to know a rising performer.  Many of our hosts have formed lifelong friendships with their young guests, and consider them part of their family.
WHAT WE ASK OF OUR HOSTS
Transportation
Arrange or provide transportation* to and from:
Airport
Rehearsals
Performances
Social gatherings

Dinner for participants, hosts, and California Music Center Board members
Post-finals reception
*Note: Host families frequently share transportation duties by arranging carpools.
At Home
Provide:
A comfortable room
Meals ("family style" usually preferred)
Quiet rehearsal space
In General
To the extent possible:
Welcome the Semifinalist as a "member of the family"
Attend the Semifinalist dinner
Act as your Semifinalist's fan club throughout the Competition
Look for ways to support/encourage your Semifinalist's efforts in the Competition
Take your Semifinalist "out on the town" in San Francisco, if time permits
Provide the Klein Competition with feedback on your experience as a host
BY PHONE
If you would like to make a credit card donation over the phone, please call CMC at 415.252.1122.
BY MAIL
Mail a donation check to:
California Music Center
PO Box 460095
San Francisco, CA 94146-0095
Thank you for supporting California Music Center.