Join the Elaine Klein Society
In November 2011, California Music Center formed the Elaine Klein Society as a means of recognizing those loyal supporters who include CMC in their estate plans. Elaine, the wife of Irving M. Klein, has been one of the cornerstones of the organization throughout its history, and by naming the Society in her honor, we celebrate her unfailing support of musicians throughout her life, both within her own family and throughout the broader community of string players via her work on the Irving M. Klein International String Competition. Elaine, we salute you!
To join the Elaine Klein Society, please complete and return the Pledge Form
Below is the text of a letter that Elaine wrote to announce the formation of the Elaine Klein Society: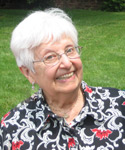 Dear Friends,
I am writing to give you an important update on the California Music Center (CMC), producer of the Irving M. Klein International String Competition, and our plans for the future. 
First, let me thank you for your loyal support that has seen us through 32 years of nurturing and promoting some of the world's finest young string players at the beginning of their careers. The Klein Competition and CMC are thriving and healthy – and so am I!
I am excited to announce that CMC has initiated a planned giving program and created an endowment fund. I am truly honored that our Board of Directors has named the program the Elaine Klein Society. This is an important step to ensure the future prosperity of CMC and to further Irving's teaching goals and commitment to young musicians' careers. I am also pleased to be the inaugural member of the Society by pledging a bequest to the organization. Irving would be so proud of what we have achieved.
Please keep the California Music Center at the top of the list of organizations you cherish when you next revisit your estate plan. You can formalize your membership in the Elaine Klein Society with the Pledge Form, and you will enjoy a number of benefits as well. You may contact me or Mitch or Marcy Straw, our Executive Director, should you wish to discuss your plans with us.
Thank you again for your kindness and generosity.
Yours truly, Elaine
BY PHONE
If you would like to make a credit card donation over the phone, please call CMC at 415.252.1122.
BY MAIL
Mail a donation check to:
California Music Center
150 Sutter St #262
San Francisco, CA 94104
Thank you for supporting California Music Center.