Commissioned Works
Summary
We have always believed that musicians (and especially young ones) need to know the language of the music of their own time. Music continues to evolve and progress by absorbing the history, culture and sensibilities of the world around the composers and performers. Music exists, in part, to express the experiences of the present moment.
For these reasons, the Klein Competition has always required applicants to perform 20th/21st Century works, to demonstrate facility in performing music of the present. In addition, we have commissioned excellent composers to create new works to challenge the imagination and technique of our performers at the Competition. The Commissioned Works ask each performer to create an individual concept of a previously unperformed composition, and make this new piece their own expressive vehicle. Hearing how each individual interprets this new music enables the listeners to learn a great deal about the contestant's abilities and expressive inclinations.
2019 COMPOSER CARLOS OLIVER SIMON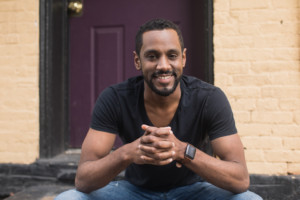 The Composer for the 2019 Klein Competition is CARLOS OLIVER SIMON.
Carlos won the prestigious Marvin Hamlisch Film Scoring Award in 2015, the Presser Award from the Theodore Presser Foundation in 2015 and the Underwood Emerging Composer Commission from the American Composers Orchestra in 2016. During its 2015–2016 season, the Detroit Chamber String and Winds also named Simon as its young composer-in-residence. He now serves as a member of the music faculty at Spelman College in Atlanta, Georgia.
Learn more about his process here.  Most recently he was selected as a Sundance Institute Fellow for its 2018 Film Music and Sound Design Lab.
I love hearing and learning about new music,  whatever the genre. We are all a part of an artistic collective. What is originality? It all comes from somewhere. The best we can do is to stay relevant by being socially conscious. There are a lot of great artists whose music reflect our time: John Luther Adams, Stevie Wonder, Joel Thompson to name a few.

The 2018 David Froom Commission for the 33rd Irving M. Klein International String Competition was supported by New Music USA. To follow the project as it unfolds visit the project page: https://www.newmusicusa.org/projects/david-froom-commission-for-the-33rd-annual-irving-m-klein-international-string-competition